Disneyland and Knott's Berry Farm aren't the only theme parks in Anaheim! Check out Adventure City Anaheim for a quaint, family-friendly experience that will take you back to the day of sweet fair rides, short lines and memories being made. Known as the little theme park that's big on family fun, the park is open seven days per week and is available for private parties and corporate events.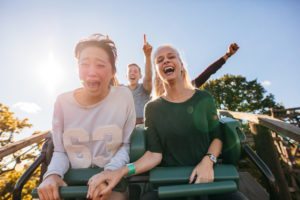 A number of rides will give you plenty of thrills. Try out the Rewind Racers little coaster where you can go backwards, forwards and all around! It's the first backwards-forwards coaster in America, offering a shuttle ride like no other. On Drop Zone, you're taken 45 feet into the air before plunging safely back to earth. Perhaps the gorgeous, vintage 1946 carousel is more your speed—especially when you have your pick of the horses.
The "Adventure" of a Lifetime
Head to the petting farm, and get up close and personal with sheep, chicks, pigs and more. The 24-foot rock climbing wall is an obstacle for anyone ages four and older. The arcade is a challenge old-school style, and you'll want in on the drool-worthy prizes! Don't forget to stop by the Thomas the Train Station to build your own layout and tracks.
Birthday parties and special events can take advantage of the Party Tree House and party sky-high. At Parker's Fill-Up Station, all pizzas are made to order. Where will your next adventure take you?