Southern California and Disneyland are already known as a foodie destination, but when you're craving Italian there's a lot more to Anaheim than pizza. (Of course, the city does pizza right, too!). Check out the many Italian eateries like Buca di Beppo, a local chain with a kitschy vibe complete with red and white checked tablecloths. It's a fantastic casual space for homemade Italian favorites.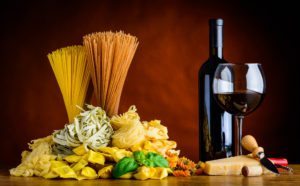 Rufino's Italian Restaurant is known for their veal, pasta al dente, and cozy ambiance. Share some starters featuring locally sourced seafood, and make sure to save room for their decadent desserts like tiramisu and spumoni. It's a great pick for business meetings, a romantic date, or a family outing.
Perfect Pasta
Cortina's Italian Market has been a favorite since 1963, and it remains a popular counter-service staple in Anaheim. For pastas, pizza and sandwiches in a very low-key environment, Cortina's is part restaurant and part grocery store. Why not pick up some Italian favorites to take back to your guest room after digging into the beloved pasta dishes or thick slices?
Marri's Pizza and Pasta makes diners feel like they've been seated in Italy thanks to the terra cotta walls and traditional menu with a few innovative twists. From the brick oven pizza to the antipasti platters, there's something for everyone at this staple Anaheim bistro.