Southern California might be famous for their funky ice cream, but sometimes only authentic Italian gelato will do. There are a variety of delicious options in and near Anaheim, like Elado Ice Cream. The El Brownie and the mango flavors are highly recommended, but the friendly staff are happy to help you narrow down from the impressive list of choices. It's a hidden gem you have to try.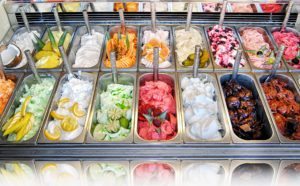 Joe's Italian Ice is another local favorite, with both genuine gelato and mouthwatering soft serve to choose from. Of course, there's also Italian Ice, which makes Joe's a popular pick when you just can't decide if it's an all-gelato kind of day, or if you want to try a little bit of every cold dessert.
Creamy and Dreamy
At Pop Bar, you can get hand-crafted gelato in countless flavors—and even on a stick. There's also a waffle cone option that can fit six flavors, and the Twix Candy Bar flavor has been getting rave reviews. A plethora of toppings is available, whether you want your ice cream hand-dipped in chocolate or your favorite crushed candy bar. Lines can be long, so get there close to opening (noon daily) for the fastest service.
Eiswelt Gelato is all gelato, all the time. It's exceptionally high quality at a surprisingly affordable price. If you're after a real Italian experience, it's the place to be. You can even ask to "make yours cute" and get a gelato shaped in a unique way, from a chicken to a flower.
Hungry yet?