The accessibility of the Pacific Ocean and the flair that's only found in southern California-based chefs makes Anaheim a hot spot for Japanese dining. Try out Fuji Grill for a no-frills and very authentic option for everything from sushi to classic dishes. Famous for the lunchtime teriyaki bowl, this local chain also offers sushi bowls, rice bowls and some amazing side orders. Miso soup, shrimp, soy beans and a full sushi menu offer big temptations!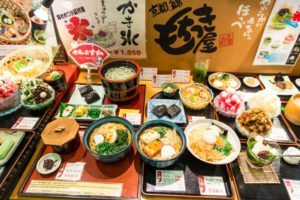 Kaori Sushi in nearby Fullerton has the famous green tea crunch roll with secret sauce that'll have you keeping the soy sauce on the table. Watch sushi chef Gino work his magic when you sit at the sushi table, and you'll be amazed at his technique, innovation, and the incredible high quality of the ingredients.
On a Roll Now
True Seasons Organic Kitchen is everything you imagine a California semi-fusion Japanese restaurant to be. Get the organic spicy edamame with truffle oil, wild salmon wrap with pomegranate, Thai curry rice bowl with organic chicken or wild caught scallops. Coconut and green tea ice cream or a handmade popsicle seal the deal.
Sushi @ Sushi is a favorite amongst locals, relatively new and already racking up great reviews. Choose from a huge selection of rolls, and don't forget to peek at the 50 percent off menu! The Philadelphia roll never disappoints and the freshest of sashimi pairs well with the hot, salty edamame.