In the mood for a delicious tour of Anaheim? Check out one of the many tasting rooms in town, like the Alfresco Tasting Terrace in Disneyland's park. It's the kind of experience you didn't know Disney offered: You can take your wine or beer tasting off the terrace to explore the park. Adults love it for the getaway experience of kicking back, no lines and getting introduced to some fantastic local options.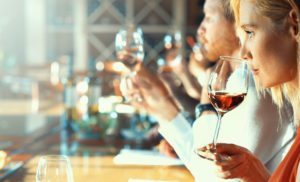 Pali Wine Co. on S. Anaheim Boulevard recently opened to rave reviews. The ambiance gives you the feel of being in wine country, without leaving central Anaheim. The large space is suitable for groups and at $15 for five tastings, the pours are generous. Happy hour is Monday – Wednesday from 4 – 7 p.m., and you'll be able to score discounts on both wine and treats like bruschetta, sliders and flatbreads.
Bottoms Up
The Hoparazzi Brewing Co. doesn't have an age limit on who can come through the doors, making it the perfect place for parents to bring their children. The large, industrial-style bright space is fairly isolated. Specializing in sours, there's no official food menu but a partnership with a local pizzeria ensures fast, hot delivery directly to the tasting room.
At Vendome Wine and Spirits, you'll find an impressive line of liquors, wine and cigars along with friendly and knowledgeable staff. Relatively small, it's where you want to go when it's all about quality products.
Where will your first stop be?