Best Korean Restaurants
Anaheim and the surrounding area is a veritable melting pot when it comes to cuisine, and nothing compares to Korean-style BBQ. Try Myung Dong Kyoja at 1000 N Euclid St. for savory seafood pancakes, tofu served warm with sesame seeds and a soy sauce, and the bimbimbap bowl topped with an egg. In Korea, it's not bimbimbap unless it's stirred with ketchup and served with a cold bottle of soju to share.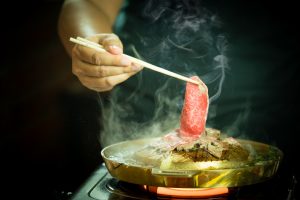 Incheonwon BBQ House in nearby Garden Grove can be found at 13321 Brookhurst St. Known for the traditional tabletop grilling, you'll have a variety of meats to choose from but some of the most popular are kalbi and bulgogi. It's open until midnight most nights. Try grilling some of the kimchi along with the proteins, and don't forget to save room for dessert—crisp, cold fruit slices.
The New Gangnam Style
Cham Soot Gol in Buena Park is at 8552 Beach Blvd. The BBQ and buffet favorite comes with buttons at each table that ensure speedy delivery of all you can eat meats and sides. Open until 1 a.m. on weekends and midnight weekdays, it's a favorite pick after a night out. Some like the "soju bomb," a shot of soju dropped in Korean beer, as a nightcap.
Garden Grove is home to Kaju Soft Tofu Restaurant at 8895 Garden Grove Blvd. They're known for their soups, from savory fish stews that appeal to all to the notorious "dead man's soup" of South Korea that requires a little getting used to (don't worry, it tastes much better than its aroma). The quaint, intimate establishment is perfect for a quiet night out.