A stay at Pavilions Hotel means being minutes from the Anaheim Convention Center where world-class performances take place year-round. Sporting events, concerts, tradeshows, and more flock to Orange County to take advantage of the updated venue space with cutting-edge technology. In 2017, the center expanded to add 200,000 more square feet of flexi-space for banquets, meetings, and more. There are new loading docks and a vehicle entrance in a climate-controlled environment, making it the perfect destination for your upcoming event.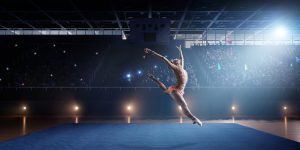 Technology services, full crowd control, banquet services, and more are available when working with the events coordinator. From audio visual and rigging to helping you plan out the perfect event of any size, if you're looking for the ultimate space in Anaheim for a major event, the Anaheim Convention Center delivers.
Take Advantage of What's Scheduled
The Gold Medal Gymnastics Invitational is held at the center throughout June, as well as a number of local graduation ceremonies. Are you in town for a special summer event? Rest easy knowing that your hotel is just a short drive away from the Anaheim Convention Center and has blocked rooms available. Convenient and accessible, ensure your stay is close to all the action.
Check the Anaheim Convention Center calendar to see what events have been added during your stay.