Anaheim is a foodie hot spot, and no trip to Southern California is complete without sampling the Italian fare. With a rich Italian population, Anaheim is home to a number of local legends like Baci Italian Restaurant located at 416 N Lakeview Ave. Try the lobster soup, pasta with sausage, and other comfort foods on the outdoor patio. Save room for their revolving decadent dessert menus, too.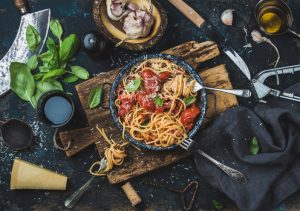 The Anaheim Italian Market and Delicatessen is part grocer and part counter-service staple. Locals have been flocking to this eatery for years, and you'll find it at 2175 W Orange Ave. The best in pizzas, pastas, and sandwiches have been dished up here since 1963. It's not fancy, but it's genuine, authentic, and will have you coming back for more.
That's Amore
Carolina's Italian Restaurant at 12045 Chapman Ave. is known just as much for its 250+ beers on tap as the pizzas and pasta dishes. A favorite for late-night dining, the massive murals on the walls make you feel like you've been whisked away to Italy. The wood-fired pies are the stars here, but the fried calamari, beef lasagna, and cheese ravioli make tempting side dishes.
You'll find Rufino's Italian Restaurant at 938 Euclid St., and they've been serving some of Anaheim's best Italian dishes since 1967. The classic dishes paired with a romantic ambiance makes Rufino's a favorite, and they're known for their veal dishes.
Which will you try first?