Are you looking for the royal treatment when it comes to family fun centers? Anaheim's Camelot Golfland at 3200 E. Carpenter Avenue is so much more than mini golf. It's a family- and date-destination where you can customize birthday parties and group events to create a memorable outing worthy of kings and queens. The bumper boats are open for the summer, and the arcade is the perfect place to cool down in some chilly A/C in between rounds of mini golf.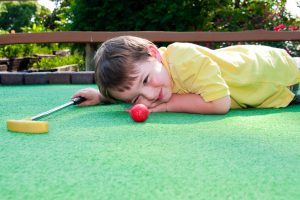 RaceCars and laser tag have been popular staples of this Anaheim destination for years. Take to the road and experience lightning-fast loops. Take a break at the snack stand for your favorite goodies like nachos, fries, and ice cream. Camelot Golfland is for all ages, and is a favorite team-building activity for businesses.
Play On
The bumper cars are all new and will have you zooming around the indoor arena in no time. With lights and music, you've never experienced bumper cars like this. After a few rounds, you might want to check out the pies at Pizza Parlor and Iceberg Shakes, known for having the best pizza in the kingdom. Weekday lunch specials give you an alternative to the usual fare, and custom-made subs, soft pretzels, and Icees make the perfect side dish.
Hundreds of flavors of shakes are available, and Camelot is a local favorite for cooling down during the summer months.