Bowling is a fantastic activity for date night, family outings, or simply for out-of-town visitors who want to indulge in some nostalgic good times. In the Anaheim area, there are plenty of bowling alleys like Concourse Bowling Center at 3364 East La Palma Ave. The completely updated destination has a full-service bar, restaurant with your favorite comfort food, and billiards along with cosmic bowling nights.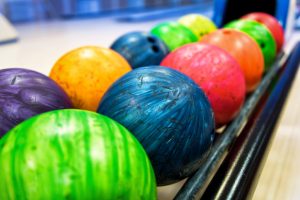 Check out Linbrook Bowling Center at 201 South Brookhurst St. and get whisked back in time at this 24-hour hot spot. Pub food, strong coffee, and karaoke nights help make this a favorite destination for locals. You'll also find great bar food and party nights that go into the wee hours.
Bowl On
Bowlmor Anaheim at 400 West Disney Way is located in the Anaheim GardenWalk, and you won't believe how upscale yet family friendly this favorite stop is. Anything on Disney Way goes above and beyond, which is why you'll find award-worthy dining here along with craft cocktails, great desserts, and superior party-planning options.
Splitsville Luxury Lanes is also tucked close to Disneyland at 1530 Disneyland Dr. The swanky destination includes billiards tables, incredible cocktails, and it's a favorite for date nights. If you prefer your strikes with a side of luxe, this is the spot for you.